Hands for Healing ONLINE training in Australia 2020-2021 | Module 4
12 marzo -06:00

-

14 marzo -10:00

AEST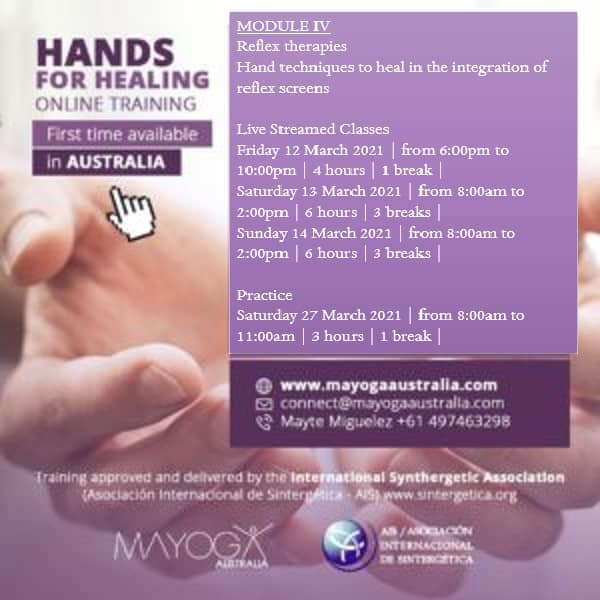 First promotion of Hands for Healing training in Australia!! ONLINE
MODULE IV
Reflex therapies
Hand techniques to heal in the integration of reflex screens 
Would you like to work for your health not fighting illness, but from a physical and emotional balance point of view?
Would you like to access a training and research model in constant development?
Hands for Healing arises from Sintergética, a therapeutic proposal conceived by Dr. Jorge Carvajal Posada, which seeks the integration of the medical systems of the great human cultures with the western medical system, in order to contribute to a new culture of health where the person can be seen and treated in an integral way.
A detailed study of the most effective postures and movements in clinical practice based on the world's traditional medicines, especially those of traditional Chinese medicine and Ayurveda, has made it possible to recognize a common thread that makes Hands for Healing a simple method, which accounts for the clinical results obtained with the sole use of the hands without the use of any therapeutic instrument other than one's own conscience.
What makes us different?
It is a Systemic Integration Method
Hands for Healing brings together the best of all the expression of manual medicine in the world, providing its own techniques and mudras. You will learn to work by joining the heart with the mind and the hands, turning them into a valuable therapeutic tool. The union of all this will help you to know what the person needs in each particular case and to apply it with authentic dedication.
We are an Educational Community in constant growth
Hands for Healing is a proposal for biological regulation in which matter, energy and information are interrelated.
It is a therapeutic path of synthesis, which transcends the classic dualism of mind and body, incorporating consciousness as a unifying agent. It is thus characterized by the use of the body's own intelligence with its capacity for self-regulation as a diagnostic and therapeutic tool.
We promote Personal Growth and Health Self-management
The cornerstone in building health is ourselves. Our trainings enhance our ability to self-manage our own well-being, both physically and emotionally. It is no longer a question of fighting disease, but of finding the meaning of disease as a learning opportunity that leads us to a new adaptation.
What will you learn in the training?
✦ How to apply simple methods of information and energy transfer.
✦ Training in techniques for using hands to rebalance the energy field.
✦ Integration of the different reflex therapies in an operational unit that optimizes their therapeutic use.
✦ How to integrate subtle techniques (Qi-Gong, Reiki, Etheric Manual Medicine) in a dynamic proposal.
✦ Access to a synergetic approach that gathers a practical and original synthesis of many of the proposals of manual medicine contained in the techniques of polarity, chiropractic, osteopathy and different schools of manual medicine, reflexology and massage.
---
---
The program Integrates core elements from several Healing techniques into one comprehensive and practical program delivered over 7 Months and consisting of 5 Modules.
Improve or learn to harness the power in your hands for healing & self-healing. Every single human being has a healing power and you can awaken it with a very simple training, with Hands for Healing Online Training.
+80 hours of theory + 25 hours of practice
Access to a virtual classroom and online classes via zoom.
All classes will be online and recorded, then uploaded in the virtual classroom for you to watch again or to keep up with the training at your own pace.
Certified by the International Sintergetica Association (ISA) and delivered by Certified Medical Doctors who are Sintergetica Trainers.
OUR PROGRAM:
MODULE 4: (ONLINE)
Reflex therapy. Healing Hands techniques to heal in the integration of reflex screen.
Date: Friday 12th, Saturday 13th and Sunday 14th March 2021
Teacher: Renato Segura
Objectives:
Learn to integrate the different reflex points or somatotopias into a single therapy process using the hands.
​
Content:
Brief description of the main reflex points..

Nodal or phase transition points and their importance in reflex therapy

Reflex therapy of the vegetative nervous system and the sympathetic ganglion chain.

Cephalic somatotopies and corresponding mudras.

Integration of reflex screens corresponding to the three basic energies. The integration of the great movements of energy. Life energy, prana and ancestral energy.

The basic techniques and mudras for activating the energy of the central channel.

The central and peripheral anchor points of the five movements.
​Live Streamed Classes
Friday 12 March 2021 | from 6:00pm to 10:00pm | 4 hours | 1 break |
Saturday 13 March 2021 | from 8:00am to 2:00pm | 6 hours | 3 breaks |
Sunday 14 March 2021 | from 8:00am to 2:00pm | 6 hours | 3 breaks |
Practice
Saturday 27 March 2021 | from 8:00am to 11:00am | 3 hours | 1 break |
Don't be left with any doubts! 
Contact the training organizer, Mayoga Australia, at:
Mayte Miguélez
(+61) 497 463 298
Access a whole revolution in the conception of health and disease!
If you know of any English-speaking people who might be interested in training, we would be delighted if you could pass it on to them. Thank you!
Eventos Relacionados